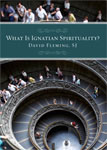 Read online a free copy of the book What Is Ignatian Spirituality? by David L. Fleming, SJ.
The most influential spiritual movement of the modern age is Ignatian spirituality, an approach to the spiritual life based on the insights of St. Ignatius Loyola. Ignatian spirituality teaches an active attentiveness to God joined with a prompt responsiveness to God, who is ever active in people's lives.
In What Is Ignatian Spirituality?, David L. Fleming, SJ, provides an authoritative yet highly accessible summary of the key elements of Ignatian spirituality, among which are contemplative prayer, discernment, and dynamic involvement in service and mission. Fr. Fleming explains how this centuries-old method of disciplined reflection on God's work in the world can deepen our spiritual lives today and guide all the decisions we make.
To read your free copy of What Is Ignatian Spirituality?, please click on each link below. If you would prefer a hard copy of the book, please visit Loyola Press for ordering information, or call 800-621-1008.
What Is Ignatian Spirituality? Part 2
Powered by Issuu