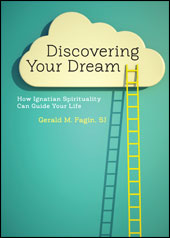 Jerry Fagin, SJ, was a beloved teacher and spiritual director at Loyola University New Orleans for 33 years. He was known for his skill in presenting the main themes of Ignatian spirituality in clear, succinct language. When Jerry died in June of last year, he was in the middle of writing a book explaining these ideas, which he had studied and taught for many years. Loyola Press is proud to publish the book this month: Discovering Your Dream: How Ignatian Spirituality Can Guide Your Life.
I was Jerry's editor, and I had the sad but rewarding job of finishing work on the manuscript after his death. Jerry had a detailed plan for the book and he had nearly finished a first draft. I understood what he wanted. With the help of Mark Thibodeaux, SJ, and Judy Deshotels, two close friends of Jerry who knew his work well, I put the book together according to his plan. I think the book honors him and will bring the blessings of Ignatian spirituality to many.
The book is aimed at a wide audience, but it should especially interest young people. Jerry looked at Ignatian spirituality through the prism of discernment. He taught at a university, surrounded by people making important decisions that shape their lives. He thought that an Ignatian perspective can help us discover what we truly want, which is what God wants. The book delivers on the claim made in the subtitle: How Ignatian Spirituality Can Guide Your Life.

Print Friendly