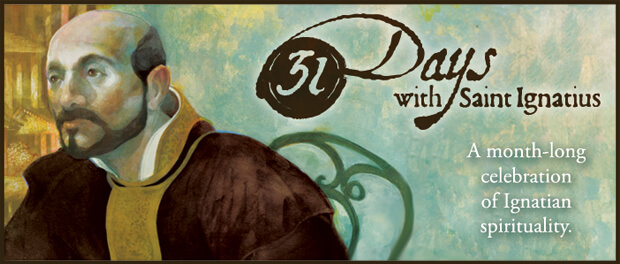 Welcome to the eighth-annual 31 Days with St. Ignatius, a month-long celebration of Ignatian spirituality. In honor of the feast of St. Ignatius Loyola on July 31, we offer a selection of articles, blog posts, and videos to help you explore the riches of Ignatian spirituality.
Subscribe to the dotMagis blog for more Ignatian inspiration throughout the year.
Day 1
10 Things to Love about Ignatian Spirituality
Day 2
Day 3
Day 4
Recalculating with the Holy Spirit
Day 5
Day 6
Engaging the Senses Through Your Imagination
Day 7
The Spiritual Meaning of Balance
Day 8
Day 9
Day 10
Take, Lord, Receive, My Work and Career
Day 11
Day 12
Day 13
Day 14
Day 15
Day 16
Discernment at Different Stages of Life
Day 17
Day 18
Day 19
Day 20
Day 21
Taste and See: Experiencing God with Our Sense of Smell
Day 22
Finding God in Negative Emotions
Day 23
Day 24
Day 25
Day 26
Day 27
The Inner Process of Letting Go
Day 28
Day 29
Kevin O'Brien, SJ, on the Call of Christ the King
Day 30
Reimagining the Ignatian Examen Flip Book: Naming the Grace
Day 31
St. Ignatius Loyola's 10 Guidelines for Negotiating Life's Journey
For more celebration throughout July, join us at Facebook.com/IgnatianSpirituality. Use the hashtag #31DayswithIgnatius on your favorite social media, and share the ways you've been touched by St. Ignatius and the spiritual outlook that bears his name.
If you're ready to go deeper into Ignatian spirituality, try the online retreat An Ignatian Prayer Adventure. Or see a selection of Ignatian books from Loyola Press.
Share 31 Days with Saint Ignatius
If you use a graphic on your website, please add a hyperlink to https://www.ignatianspirituality.com/31-days-with-saint-ignatius.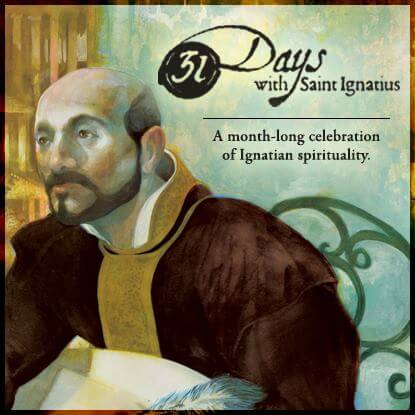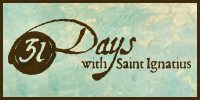 Print Friendly