During the four weeks of Advent, we prepare for the celebration of Christ's birth through prayer and reflection. We contemplate the First Coming of Jesus as Savior, and anticipate his promised Second Coming. And amid the flurry of Christmas preparations, we look for practical ways to observe the holiness of the season in our everyday lives.
Ignatian contemplation and reflective prayer encourage us in the season of Advent. Below we highlight Advent resources in the tradition of Ignatian spirituality.

Each week we'll provide a video commentary about a work of art inspired by the Sunday Scriptures of Advent. Use these videos to take a new look at this season of preparation through the lens of sacred art. Weekly dotMagis blog posts offer reflections on using the art as a means of Ignatian prayer.
First Week of Advent, Cycle B
Second Week of Advent, Cycle B
Third Week of Advent, Cycle B
Fourth Week of Advent, Cycle B
Christmas Day
First Week of Advent, Cycle A
Second Week of Advent, Cycle A
Third Week of Advent, Cycle A
Fourth Week of Advent, Cycle A
Christmas Day

Advent Weekly Video Reflections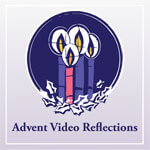 Week One: Love Is Coming by Joe Paprocki
Week Two: Waiting by Tim Muldoon
Week Three: How Does Hope Shape Us? by Vinita Hampton Wright
Week Four: Mary Receiving Jesus into Her Arms by Becky Eldredge
Loyola Press Online Advent Calendar
We invite you to use an online Advent calendar featuring daily reflections from several sites. Also find other Advent resources from Loyola Press.
Advent Podcasts
The New England Jesuits offer meditations and reflections intersecting themes of Advent and Ignatian spirituality. The topics are: Anticipating Joy, Using the Examen During Advent, Imaginative Prayer, and Advent Gifts and Graces.
Praying Advent
Creighton University's Online Ministries offers a selection of materials to help people prayerfully enter into Advent, from short prayers to longer reflections and audio retreats.
Advent Examen
By Laurie Marshanke
Marshanke invites seasonal reflection through the lens of the Examen.
Contemplation on the Incarnation Part One: The Trinity Looks Down from Heaven
By Daniel Ruff, SJ
The Contemplation on the Incarnation begins with imagining the Trinity looking down from heaven and responding with the Incarnation. Ruff introduces readers to this aspect of the Spiritual Exercises.
Contemplation on the Incarnation Part Two: Mary's Human Response
By Daniel Ruff, SJ
The second part of the Contemplation on the Incarnation explores the Annunciation and Mary's response.
Mary at Her Annunciation as a Model for Growing in the Virtue of Faith
By Gerald M. Fagin, SJ
In contemplating the Annunciation, we see Mary as a model of faith and are called to trust and openness ourselves.