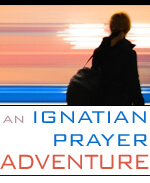 This week we move into the Second Week or main section of the Spiritual Exercises. In the First Week, we savored the grace of being loved by God in our sinfulness. In the Second Week, we naturally respond to God's mercy by wanting to get to know this God who is so generous and loving, who calls us by name, just as we are.
In the Second Week, we accompany Jesus in his earthly ministry. We seek not scientific or biographical facts about Jesus, but a knowledge more akin to knowing a friend in mystery and depth—a heartfelt knowledge.
We will reflect on Jesus' public ministry later in this prayer adventure. This week we will reflect on the Incarnation and Jesus' birth and early life.
This week uses a technique of Ignatian prayer called imaginative contemplation. This way of praying involves imaginatively placing yourself in the Gospel scene as if you were a participant in the event. The idea is to gain a deep heartfelt connection with Jesus and his work.
Read more about imaginative prayer before you start.
Day 1
Day 2
Day 3
Day 4
Day 5
Day 6
Day 7
Bloggers' Reflections on These Spiritual Exercises
Reflections by Paul Brian Campbell, SJ, Vinita Hampton Wright, and Jim Manney:
Give Up Being Tough on Yourself
If Jesus Were Born Today
Imaginative Prayer
A Twelve-Year-Old, Where?
Friday's Reflection: Jesus the Child
---