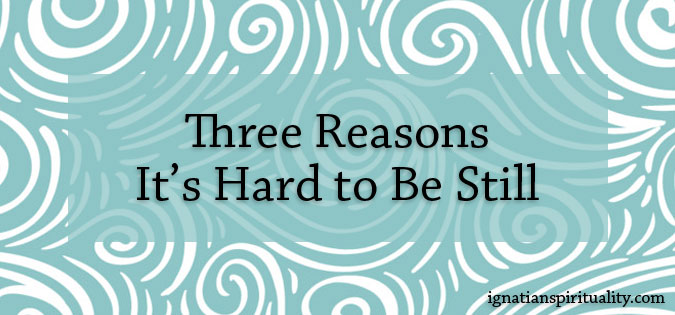 We have been conditioned to feel guilty whenever we are not "productive."
Stillness, even for the purpose of rest or prayer, can feel like wasted time to someone who lives in a world that values wealth, competition, high productivity, full schedules, and general self-importance. If we stare off into space for half an hour—and fail even to take notes on the thoughts that come to mind—that's half an hour lost. The writer must always be recording and reflecting; the executive must always be strategizing. There's no such thing as being "off" in such a culture. When we are stranded in traffic, we panic if there's no device by which we can check the news, return calls, answer e-mail, or download a song or television show while we wait.
And if we do schedule a day away for retreat, we are tempted to load up the day with books to read, spiritual exercises to try, and journals to fill. Even in a retreat context we struggle to get still and do absolutely nothing.
We sometimes prefer distraction to concentration when it comes to soul work.
I have said to writers at various conferences: "We procrastinate when it's time to write because, deep down, we know what true writing will cost us." When the soul is allowed the space, time, and uncluttered mind to tell us our truths, we discover that those truths can be unsettling. If I'm quiet and inactive for an afternoon, what might rise to the surface is not some new insight into a Gospel passage but worries about the state of my marriage or my resentment toward a friend. My soul—under the influence of the Holy Spirit—will direct me to the real issues that I must see and tend today. Subconsciously, we understand that to invite silence and stillness is to open the door for soul work that is sometimes painful. It's much easier to be busy—even "spiritually" busy—and to distract ourselves in various ways.
We have grown uncomfortable with any conditions that make us feel alone.
We now have a wealth of electronic devices that help us stay in touch, share information, and communicate with lots of people in lots of places. These same devices make it possible for us never to have to spend a moment truly alone because we are just a Facebook post away from hundreds of friends. Even if no one responds to the text I just sent by smartphone, I still feel connected to the universe, simply because I have composed and posted something on the world's bulletin board. Our devices have become our constant companions. Recently I read a lengthy article suggesting that our children are not learning how to be alone or how to be bored because they are constantly on electronic devices. It is not uncommon now to see children who do not know how to be alone or how to create entertainment from nothing but time and a little bit of space.
Adults, especially those of us past age 40, may not be quite so addicted to cyberspace, but some of us don't know how to exist with our phones turned off—or with the television, radio, and computer turned off. I need sound in the room. I want company, even if it's a TV rerun I'm barely listening to. I am used to some kind of chatter. Silence unnerves me. Silence signals that I am alone for the moment—and what must I face if the only company I have is myself?
Before we can develop spiritual practices that require stillness and solitude, we must grapple with the various forms of resistance we have developed to fight the very stillness we need.
What do you do to become still?
When do you most need stillness and solitude?
How do you deal with the ways you resist stillness?