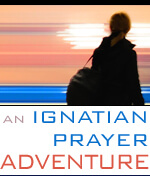 St. Ignatius believed that we can find God in all things, at every moment, even in the most ordinary times. To do this, we must take time to reflect on our experience, to look at the data of a day and discern their meaning.
Ignatius recommended a five-step method of prayer called the Examen to help us find God in all things. The Examen encourages us to look back over a period of time and pay attention to what is happening in and around us. Then we look ahead, to what comes next, so that we can act in a way worthy of our vocation as Christians.
These are the five steps of the Examen:
Pray for God's help.
Give thanks for the gifts of this day.
Pray over significant feelings.
Rejoice and seek forgiveness.
Look to tomorrow.
This week, we'll reflect on the steps of the Examen for five days. And for two days we will concentrate on listening to God.
Day 1
Day 2
Day 3
Day 4
Day 5
Day 6
Day 7
Additional Reading for Week 2
Lunchtime Examen
Rummaging for God: Praying Backwards through Your Day
Reflection and Our Active Lives
Bloggers' Reflections on These Spiritual Exercises
Reflections by Paul Brian Campbell, SJ, Vinita Hampton Wright, and Jim Manney:
Our Deepest Desires
Finding God in All Things
The Examen Is One of My Favorite Prayers
The History of One Day
---