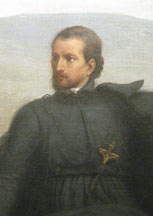 Father Jacques Marquette, Jesuit missionary and discoverer of the Mississippi, was born in Laon, France, in 1637. At the age of seventeen he entered the Jesuits and after years of study and teaching, he was summoned in 1666 to labor among the Indian missions in Canada. He was a talented linguist and learned six different dialects in his assignments at Three Rivers, Sault Ste. Marie, Holy Ghost, near present Ashland, Wisconsin and Green Bay.
When he was stationed at Holy Ghost on Lake Superior he learned from Illinois Indians about a great river running through the center of the current United States. On May 17, 1673, Marquette set out with [Louis] Joliet and five other Frenchmen to explore the Mississippi. They entered the Mississippi though the Wisconsin River, explored and mapped it all the way to the Arkansas River.
The missionary returned by the Illinois River and Lake Michigan to Green Bay. In 1675, he returned to Illinois but his strength had been exhausted by his travels. He started out to return to the Mission at Mackinac but made it only to Ludington, Michigan when he died on May 19.
From Finding God in All Things: A Marquette Prayer Book © 2009 Marquette University Press. Used with permission.
---
Related Links
The Journal of Père Jacques MarquetteMarquette's journal about his explorations of the Mississippi is available online in English and French.
PBS American Experience: Jacques Marquette and Louis JolietAmerican Experience's biography of the explorers.