By Bert Ghezzi
From Voices of the Saints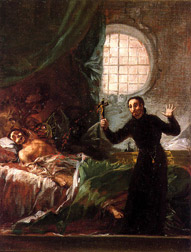 St. Francis Borgia, a relative of Pope Alexander VI, King Ferdinand of Aragon, and Emperor Charles V, joined Spain's imperial court at age eighteen. The next year he married Eleanor de Castro, who bore him eight children. In 1539, shortly after experiencing a religious conversion, Francis left the court but continued in public life as viceroy of Catalonia. At this time under the influence of Peter of Alcántara and Peter Favre, he progressed in prayer and the spiritual life.
In 1543, Francis succeeded his father as duke of Gandia, but when his wife died three years later he decided to become a Jesuit. He provided for his children and joined the society in 1550. While he preferred a quiet life of solitude, the Jesuits felt differently and promoted him so that he could use his great administrative talents for the church. In 1554, St. Ignatius appointed Francis commissary for Spain, where he founded twelve colleges and a novitiate. The Jesuits chose Francis as their general in 1565. His consolidation of the society and expansion of its ministry has caused him to be recognized as the second founder of the order. He established disciplined novitiates in every Jesuit province, writing regulations and books of spiritual instruction for them.
Francis created a new Jesuit base in Poland and strengthened the community's work in Germany and France. Between 1566 and 1572 he launched the Jesuit mission to Spanish colonies in Florida, Mexico, and Peru. He maintained contact with the missioners by letter, advising them about their own spiritual lives and counseling them on strategy. Following is an excerpt from his correspondence:
We must perform all our works in God and refer them to his glory so that they will be permanent and stable. Everyone—whether kings, nobles, tradesmen or peasants—must do all things for the glory of God and under the inspiration of Christ's example. . . . When you pray, hear Mass, sit at table, engage in business and when at bedtime you remove your clothes—at all times crave that by the pain which he felt when he was stripped just before his crucifixion, he may strip us of our evil habits of mind. Thus, naked of earthly things, we may also embrace the cross.
Wherever our brethren may be, let their first care be for those already converted. Their first aim must be to strengthen these in the faith and to help them save their souls. After this they may convert others not yet baptized. But let them proceed prudently and not undertake more than they can carry through. It is not desirable for them to hurry here and there to convert heathen with whom they cannot afterwards keep in touch. It is better to advance step by step and consolidate conquests already made. . . . They are not to risk their lives unnecessarily in excursions among unconquered people. The swift loss of life in God's service may be advantageous for them. However, it is not for the greater good of the many for there are only a few laborers for the vineyard and it is difficult to replace them.
In 1571 the pope sent Francis to Spain and Portugal to help build an alliance against the Turks. He grew increasingly ill on this embassy and died after returning to Rome in 1572.
Excerpt from Voices of the Saints by Bert Ghezzi.