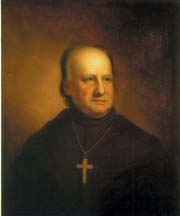 John Carroll, SJ, was the first archbishop of Baltimore.
John Carroll was born in Maryland, the fourth son of seven children. First instructed in the Catholic faith by his mother, in 1748 Carroll was sent to the Jesuit school of St. Omer in French Flanders. In 1753 John entered the Jesuit novitiate and was ordained in 1761. Carroll taught in Europe after 1761 and took final vows in 1771. His happy Jesuit life ended, however, when Pope Clement XIV suppressed the Jesuit community in 1773.
John Carroll returned to Maryland, where he resided with his mother. Since Catholics were forbidden public worship, a chapel was built for him so he could celebrate Mass for local Catholics.
In 1776 Carroll accompanied Benjamin Franklin, Samuel Chase, and his cousin Charles Carroll on a mission to Canada. The mission was unsuccessful in winning Canada over to the American side in the Revolution. John journeyed back to Philadelphia, caring for an ailing Benjamin Franklin. Benjamin Franklin would remember John Carroll's kindness later when asked by the Vatican to recommend a priest who would become the first bishop of the United States.
After 1783 John Carroll was a vigorous defender of Catholic rights in the new nation. Carroll also advised the Vatican that the United States needed a diocesan bishop chosen by its own clergy. The Vatican agreed and John was elected unanimously. In 1786 Baltimore was named the first diocese of the United States with John Carroll as its bishop. In 1790 John traveled to England to be ordained bishop by Bishop Charles Walmesley.
John Carroll was bishop and archbishop of Baltimore for 35 years. He proved to be an astute leader while facing the innumerable difficulties of establishing the Church in a new, democratic environment. Greatly interested in the education of youth, John Carroll was instrumental in founding Georgetown University. For the training of priests he invited the Sulpicians, who established St. Mary's Seminary. Carroll also encouraged Elizabeth Seton to establish the American Sisters of Charity for the education of young girls.
Archbishop John Carroll's death in 1815 was the occasion of a universal outpouring of regret.
Quote:  When he was near death, Archbishop Carroll said, "Of those things that give me most consolation at the present moment, one is that I have always been attached to the practice of devotion to the Blessed Virgin Mary; that I have established it among the people under my care, and placed my diocese under her protection."