How to Make Choices with Confidence and Clarity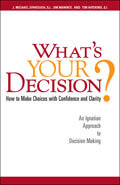 Discover a time-tested Ignatian approach to decision making in the fast-moving, personal, and highly practical book, What's Your Decision? by J. Michael Sparough, SJ, Jim Manney, and Tim Hipskind, SJ. And for two weeks only, download the entire book for free!
Download your free copy of What's Your Decision? by June 30, 2010. If you would prefer a hard copy of the book, please visit Loyola Press for ordering information, or call 800-621-1008.
Special offer: Order your own copy at 25% off ($8.21). Or order 10 or more copies at 35% off ($7.12 each). Order here and use code Decision.
About the book: Where should I go to college? Whom should I marry? Should I change careers? When—and where—should I retire? All of us have important decisions to make throughout our lives. Yet without a sound process in place for making key decisions, we are likely to question whether or not our final decision was a good decision; more to the point, we will never feel fully confident that our decision was what God truly desired for us.
What's Your Decision? is a spiritual approach to decision making based on the insights of St. Ignatius Loyola. With the guidance of J. Michael Sparough, SJ, and Tim Hipskind, SJ—both of them experienced counselors and spiritual directors—readers will learn how to apply tried-and-true Ignatian ideas to the decision-making process.
Ultimately, we come to understand that a God decision always precedes a good decision—that is, inviting God into the decision-making process gives us the confidence and clarity necessary to make good choices.
Offer details: You may download and print one copy of this eBook for your personal use only. It is not to be copied or distributed by any other means. Feel free to share this offer with others by sharing the link to this page.
Special pricing offer expires August 15, 2010. Discount cannot be combined with any other offers. Shipping and handling are additional.