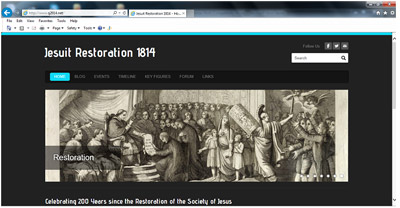 This year marks the 200th anniversary of the Restoration of the Society of Jesus. Events are being planned throughout the year to study the historical realities that led to the Suppression in 1773 and its consequences. Two websites of interest during this year are:
Jesuit Restoration 1814—This website includes information on the key figures and events of the Suppression and Restoration. Fr. Tim Byron, SJ, blogs about historical events during this era.
Jesuit Calendar—The Jesuits in Britain profile 12 Jesuits active since the 1814 Restoration in a calendar available for purchase, but with resources online. Each profile—on men such as Pedro Arrupe, Pierre Teilhard de Chardin, and Alberto Hurtado—includes biographical information and an audio reflection, accompanied by portraits commissioned for the bicentennial.