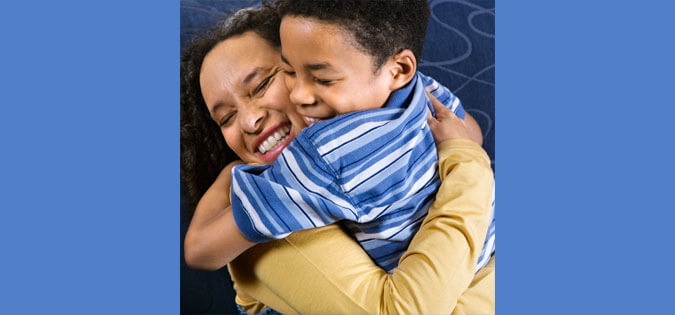 A few years ago, a friend gave me some prints of the Laughing Jesus painting. When I saw it, I immediately started laughing. I wondered what it was about this image that made me laugh. Part of it was that Jesus seemed to have such a joyful countenance that one could really imagine him laughing, and it looked like "contagious laughter"—the kind where it's impossible to resist joining in. It also made me a tiny bit uncomfortable seeing Jesus like this. It is so different from the common artists' renditions of Jesus that we usually see. We are accustomed to seeing Jesus' gentle smile as he sits surrounded by children, his intent gaze as he points to his Sacred Heart, and his pained expressions in Gethsemane and on the Cross. It is rare to see a picture of Jesus with an ear-to-ear grin, head tipped back in laughter. The piece challenges us to see Jesus as a real person with real human emotions—including happiness and joy.
It's a challenge not unlike that which St. Ignatius invites us to in the Spiritual Exercises. Throughout the Exercises, he calls us ever deeper into personal relationship with Jesus. "I ask for what I desire. Here it will be to ask for the grace to be glad and to rejoice intensely because of the great glory and joy of Christ our Lord" (SE 221). He continues, encouraging retreatants to "take advantage of the light and the comforts of the season, for example the refreshing breezes of spring and summer, and the warmth of the sun and of a fire in winter, in so far as the soul thinks or can presume that these things may help it to rejoice in its Creator and Redeemer" (SE 229). Ignatius encourages an embodied experience of faith. The Christ he introduces us to is a person with whom we can laugh and cry, a friend with whom we can commiserate in sorrow and rejoice in gladness.
Elaborating upon Exercise 221 in his book, The Ignatian Adventure, Fr. Kevin O'Brien, SJ, notes that, "The Fourth Week reminds us that death, despair, violence, and sadness will not have the last word: joy does. Walking with the risen Lord, we appreciate how Easter is happening all the time, with joy surprising us everywhere." Indeed, the Christian journey is not only suffering and tears; our journey ends in joy. St. Augustine said, "The Christian should be an Alleluia from head to foot." Christ has conquered death.
Can you envision yourself with Jesus and the disciples after the Resurrection when, after the initial shock and awe of seeing the Risen Christ has subsided, you embrace him and each other in sheer joy? Do you feel that joy? Do you hear the ebullient laughter? Isn't it contagious?