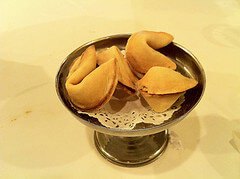 Last weekend, my husband, Jim and I had dinner at a Chinese restaurant.  At the end, we opened our fortune cookies.  Mine was bland and offered lucky numbers.  But Jim's fortune was specific and intriguing:  "Three months from this date, good things will happen."
We laughed and calculated the date in mid-May when good things will happen.  I went home and marked it on the calendar in the kitchen.  Good things will happen to us!
The next day, I went for a long walk, taking advantage of our 40 degree winter and enjoying the sunshine, pondering the fortune of "good things" that will come this Spring.  I strolled through the park, nodding and smiling at everyone else who was so happy to have this warm mid-winter day.
I noticed the canopy of huge old trees that hang over the road in the park.  In February, they look like fabulous sculptures of brown against a blue sky.  I thought of the many times our family has walked, biked, or driven along this road.  I savored my memories of the beautiful green canopy of trees in the summer, when they bend down over the road.  The weather is so warm right now that the birds are even chattering and singing, completely out of season.
"Well this could be a day when 'good things happen,'" I thought to myself.  Then I realized that this day was already exactly this way and I likely would not have noticed any of it — smiling joggers, birds singing, trees arching —  if I hadn't tucked the idea of "good things happening" into my consciousness.
There are more than 80 days between now and the "good things will happen" day on our kitchen calendar–days for me to remember that every day good things happen, just as a simple gift.  I have decided to make a list for the next 80 days of the daily good things that happen in my everyday life.  It's an exercise in paying attention.  I will let you know what I find.
Now that seems to be my good fortune!