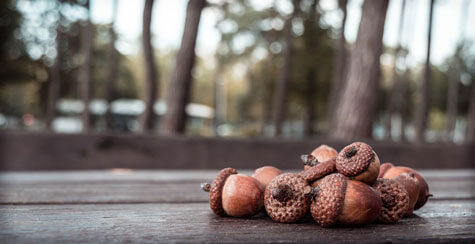 This fall, my two-year-old niece has taken up a fascination with acorns. She clutches as many acorns as she can possibly hold in her toddler-sized hand, leaving one hand free for picking up more. She calls them her "treasures." As I watch her carefully turn over in her hand each acorn—studying it, delighting in it, proudly presenting her collection to me, and then eagerly looking for more—I feel invited to join her in harvesting treasures of my own.
The cornerstone practice of Ignatian prayer, the Examen, could be reimagined as a harvest of sorts. Like my niece gathering acorns, each of us is invited to notice the ways in which God is present in our everyday experiences—to see these moments with wonder, to turn them over in our hearts and minds, to hold them dear, and to rummage for more. Just as the Examen calls us to review the places in which we experience closeness or distance from God, autumn invites us to harvest what is life-sustaining and to release that which should fall away.
Perhaps this autumn we can prayerfully harvest the delights, gifts, and surprises of the past season and treasure them. We can harvest treasured moments of laughter, joy, and connection and give thanks. Perhaps we can harvest even the challenges that have stretched us, the difficulties that have sharpened us, and the struggles that we sit with for a time; maybe someday we will learn to treasure these too. Maybe this autumn we can let go of the compulsions that grip us; we will let those fall away. We let fall away our stuck places, our entrapments, and our clutching. In prayer, we clear out that which holds us back and we make space for what is to come.
May we trust God's invitation to harvest the abundance of this season and to treasure what we find there.