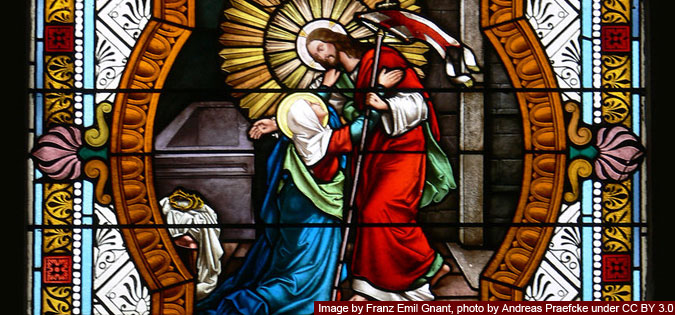 This post is based on Week Eight of An Ignatian Prayer Adventure.
Mary of Magdala visited the tomb of Jesus early in the morning and came back distraught, weeping, with an emotional tale of an empty tomb. Peter and John went racing out to investigate, but what they found was inconclusive. A short time later, Mary was back, radiant as she proclaimed, "I have seen the Lord."
Whenever I read this familiar passage (John 20:1–18), I always pause at those few words. Imagine Mary's face, suffused with the light of grace. Imagine her voice, clear and firm about what she knows, yet still filled with awe at the wonder of it all. Taking in the beautiful, simple words, we can experience her wonder and joy.
The disciples, however, were less impressed. In fact, "when they heard that he was alive and had been seen by her, they would not believe it" (Mark 16:11).
Why should they? The testimony of women in the ancient world was worthless, as it is in some parts of the world even today. The idea of a woman as an evangelist, commissioned by Jesus to "go and tell my brothers" must have been inconceivable to the compilers of the Gospels. Over the succeeding centuries, scholars identified Mary of Magdala with the "sinful woman" who scandalized the Pharisees when she bathed the feet of Jesus (Luke 7:36–50). The pre-Vatican II liturgical calendar described her as a "penitent"; this designation was undoubtedly connected to the tradition, with no basis in Scripture, that she was a prostitute. Others imagined even more bizarre life stories for her. Her witness to the Resurrection faded into the background. Only in our own century has her role as the first evangelist begun to be recognized.
In our secular, often anti-religious, society, the Resurrection may indeed "seem like nonsense" (see Luke 24:11), or at best a myth made light of by people who regard themselves as rational. Yet we, like Mary of Magdala, are called on to proclaim the Resurrection. Those of us who are not preachers or teachers proclaim it by the way we live our lives. St. Ignatius urges us "to ask for the grace to be glad and to rejoice intensely because of the great glory and joy of Christ our Lord." As our churches fill with songs of celebration this Easter season, let us take the joy deep into our hearts, reflecting back the radiance of the knowledge that Jesus is alive!
Where have you seen the Lord?
Image: "Christ Appears to Mary Magdalene" by Franz Emil Gnant, photo by Andreas Praefcke [cropped] under CC BY 3.0.