By Kevin O'Brien, SJ
From The Ignatian Adventure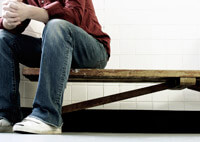 A colloquy is an intimate conversation between you and God the Father, between you and Jesus, or between you and Mary or one of the saints. It often occurs at the end of a prayer period, but it can take place at any time. Let this conversation naturally develop in your prayer.
In the colloquy, we speak and listen as the Spirit moves us: expressing ourselves, for example, as a friend speaks to a friend, or as a person speaks to one whom he or she has offended, or as a child speaks to a parent or mentor, or as a lover speaks to his or her beloved.
Whatever the context, be "real," speaking from the heart. As in any meaningful conversation, make sure to leave times of silence for listening.
In the meditations on sin, Ignatius suggests that we place ourselves before the cross and consider three questions that echo throughout the Exercises:
What have I done for Christ?
What am I doing for Christ?
What ought I do for Christ?
Return to these questions throughout the retreat. In one sense, they are not completely answerable during the retreat itself; we often lean into the answers as we continue our normal routines. By considering the questions, we realize how practical the Exercises are. Just as our sin is reflected in concrete decisions and actions, so, too, does grace come to life in choices and deeds for the love of Christ and others. We encounter Christ not only in our prayer and in the sacraments but also in our relationships with the Body of Christ, living now as the church, the people of God.
Excerpt from The Ignatian Adventure by Kevin O'Brien, SJ.
---
Related Links
An Ignatian Prayer Adventure
Review Prayer by Keeping a Journal by Kevin O'Brien, SJ