By Fr. Matt Malone, SJ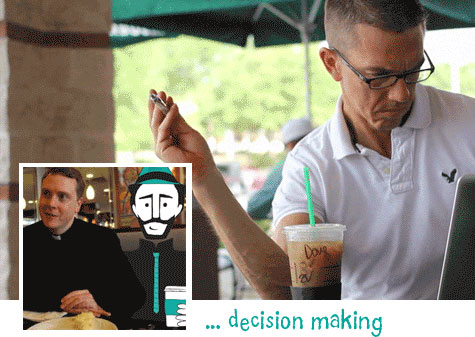 If there is one thing I should know how to do after 10 years of Jesuit training, it's this: make a decision.
St. Ignatius's ideal of a Jesuit is "a contemplative in action," meaning that a Jesuit is a man of prayer, but his place is not in a monastic cell but rather in the center of activity, at the heart of the world. That means not only knowing how to make a decision but also making many of them, often quickly.
In my own work, the art of discernment is a work in progress; there isn't a day—an hour even—when I do not use the tools of Ignatian discernment to make decisions. In weighing the "lights" and "shadows" in the choices I face, my 10 years of training are reduced to a few basic questions: What feels like faith? What feels like fear? What feels like an act of love? What feels like a cry for love? What path leads to greater freedom? What path leads to self-enclosure? What choice calls me out of myself and orients me toward others? What choice might leave me isolated and self-involved?
In the end, of course, after all the tools of discernment have been applied, whatever choice I make is always an act of faith—faith that the Lord will accompany me regardless of whether I have chosen perfectly; faith that his love and his grace truly are enough for me.
---
Matt Malone, SJ, is the editor-in-chief of America magazine, the only national Catholic weekly magazine in the U.S. Malone, a former Massachusetts political speechwriter, was ordained a priest in 2012 and is the youngest editor-in-chief in America's 104-year history.