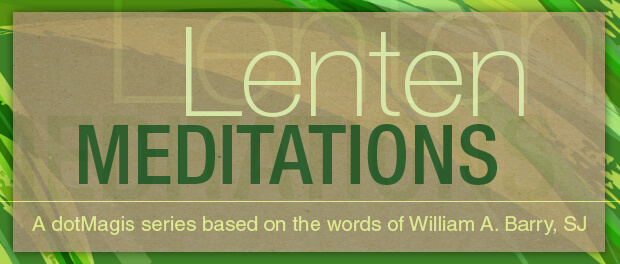 In his book Lenten Meditations: Growing in Friendship with God, William A. Barry, SJ, writes:
Lent is a great time to give God a chance to convince you of his desire for your friendship. Traditionally Lent has been a time of engaging in practices of penance or prayer that will ready us to experience, more and more deeply, the almost unbelievable love and generosity of God toward us wayward human beings.
This Lent, grow in your friendship with God the Father, Son, and Holy Spirit with a special series by the dotMagis bloggers. We share Fr. Barry's meditations for the Wednesdays of Lent and a reflection inspired by each.
The book is sold in 10-packs for small group use or as an eBook for individuals.
Ash Wednesday by Becky Eldredge
Wednesday of the First Week of Lent by Marina McCoy
Wednesday of the Second Week of Lent by Andy Otto
Wednesday of the Third Week of Lent by Cara Callbeck
Wednesday of the Fourth Week of Lent by Lisa Kelly
Wednesday of the Fifth Week of Lent by Jurell Sison
Wednesday of Holy Week by Maureen McCann Waldron
Link to the series on your site