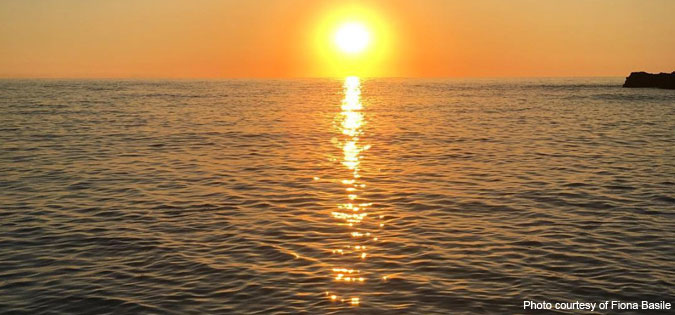 This post is based on Week Two of An Ignatian Prayer Adventure.
I first encountered the Daily Examen—the five-step prayer of St. Ignatius, which aims to help one find God in all things—when I was in Malta in 2015. I had decided to take part in a 30-day silent retreat, doing the Spiritual Exercises under the guidance of a spiritual director.
In this dedicated time and space of the silent retreat, it wasn't difficult to practice the Examen faithfully and to become deeply aware of God's presence in my daily happenings. I was surrounded by the beautiful Mediterranean Sea (in whatever direction I travelled from the retreat house), there were many ancient buildings to marvel at, I soaked up the history and stories, and at times the vista of arid land provided an expanding sense of space in which my soul could just rest. I can see myself now in a particular seat of the retreat house, which looked out over the dry fields, and in the far distance was the sea. In this space, my soul felt at rest, and there was a deep sense of gratitude. God was (and is) so present to me.
I can admit that, since that time, I have not been faithful in consciously praying the Examen each day in terms of the five-step formula. But I do know that, in essence, the parts of the Examen have found their way into how I converse with God and experience God each day.
There are many times that I invite God into a situation, asking for light and understanding in order to know what to say or do, particularly when there is a difficult conversation to be had. Similarly, I often thank God for all of the blessings I've received: my family, my friends, my work, my health, my home, my education, and so forth. In the hard, messy moments of life, I find myself saying, "God, I'm lost. I need your help. Lead me. Enlighten me. Help me." They're all ways in which I acknowledge that God is with me, that I need him, and that I welcome his presence in my life. I have tried to make my whole life a prayer, conscious that God walks with me in every moment.
In revisiting the Examen, I have been reminded of my call to engage regularly in a deep and honest conversation with an ever-present, loving God, a God who invites me into relationship with himself in order that I might have life to the full and flourish. And for this, my soul gives thanks.
---
Bonus: I Swim (A Poem)
I feel particularly close to God when looking out to sea. There's something about the expansive vista, the beauty, the awe-inspiring light and warmth, and its invitation to my heart and soul to live expansive love. While witnessing a sunset, my heart and soul were filled with such joy and gratitude to God that the following poem burst forth.
I Swim
I swim toward the light.I am enveloped in His light and His love.
I dance.
I dance in the light.
Basking in His glory and majesty; in His light and love; His gift.
The water, the light, the beauty that touches my inner being.
I swim.
I dance.
My heart and soul are aflame with thanks.
The sun kisses the water as it sets.
I am loved.
I rejoice in the gift.
My soul says: Yes, I feel you. I love you. I thank you.
I swim in the light and I dance.
The photo above is of the sunset I witnessed at the time of writing this poem. (Tropea, Italy, 2017)