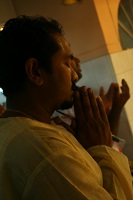 What has been your experience with Ignatian contemplation? Positive? Needs practice? Never tried?
John (Juancito) Donaghy describes his experience with imaginative prayer:
I read the scripture and, without planning, I felt myself as John within the womb of Elizabeth. I sensed something – the presence of Jesus – and jumped for joy.

Ever since that time I find myself reading the scriptures in a different way, a way also influenced by my experience with the poor.
For more on this form of prayer, read "Pray with Your Imagination" by David Fleming, SJ.