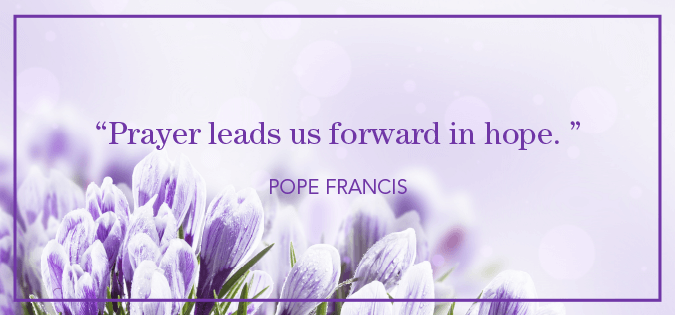 I found my friend on his knees praying in the hospital chapel. We had received word that a family member of our friend was extremely sick and might not make it through the next day. As I embraced my friend and his tears fell on my shoulder, he told me, "I feel I am having a crisis of faith, because I am in here begging God to save my loved one."
My tears joined his as I said, "The fact that you are in this chapel crying out to God in this time of darkness shows me the depth of your faith. You are turning to God in your time of need, and God is meeting you in this right now."
My friend's prayers reminded me of our need to hope in God, to feel heard by God, and to know that God can answer our prayers. "Prayer leads us forward in hope," as Pope Francis reminds us in On Hope.
In our times of darkness, when we face our human limitations, we realize our need for God. We cry out in these moments to the source of our hope, which is God. God is with us. We are never alone. God responds to our prayers, not always with the answer we want, but with graces and gifts to get us through the journey. Prayer opens us to God, and God shines light into our darkness, enabling us to take a step forward, and then another, and then another.
The witness of my friend's ability to hope that day is one I will never forget. I pull from his ability to cry out to God when I face my own darkness and the darkness I encounter in the world. God meets me in my prayers, increases my ability to hope, and inspires actions for me to take.