The Lent-Easter Ignatian Prayer Adventure online retreat started yesterday, but you can join in any time.  Take a look.

I thought I'd mention a couple of other Lenten resources.  A couple are out of the ordinary.
Other6 Prays Lent is an online community that helps you find God in the ordinary course of daily life.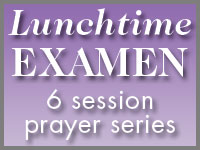 You might take some time to listen to the Lunchtime Examen, six guided Examens that lead you through my favorite way of praying.  (I narrated these.)
Creighton University invites you to join a Lenten online reading group.  The book is Thrift Stores Saints, by Jane Knuth.  This is one of my favorite books of recent years, and it's not just because Loyola Press published it.  It's about Jane's experiences working with the poor as a St. Vincent de Paul volunteer.  To call it inspiring is an understatement.
Finally, for something completely different, check out the downloadable video series 40, an allegory about Lent and its meaning from Loyola Productions.  This isn't for everyone.  Go to 40theseries for more information.