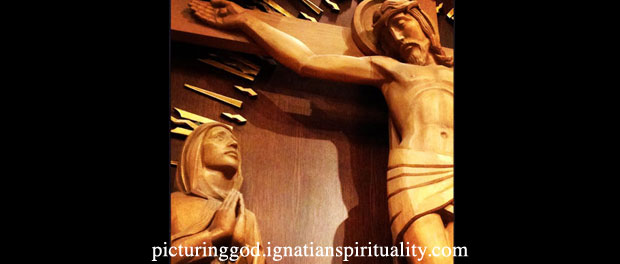 This post is based on Week Seven of An Ignatian Prayer Adventure.
In my work as a therapist, I suppose one could say it's a central part of my job to tolerate discomfort. After all, many clients come to therapy in distress, pain, and grief, and the therapist's role is to hold a space to welcome these understandably unwelcome emotions. In the therapy room, we might gently ask a client to delve deeper into a difficult experience or feeling. "Stay with that," we may nudge.
In my prayer this week, however, I've found it challenging to stay with the suffering of the Passion and death of Jesus. I would much rather get ahead to the joy of the Resurrection. For many of us, entering into the emotion of Jesus' Passion may be difficult, but this is precisely the charge of the third movement of the Spiritual Exercises. Just like in the therapy room, we know that staying with the suffering long enough to see it clearly tends to give way to something else, something new.
"When all the crowds who had gathered there for this spectacle saw what had taken place, they returned home…but all his acquaintances…stood at a distance." (Luke 23:48–49)
According to Luke, the crucifixion gathered a crowd of spectators who left when it was finished. But those who knew Jesus stayed. They stayed with the cross, stayed with their friend, perhaps stayed in silence together long after everyone else left the hillside. Would I have stayed, or would I have fled?
Perhaps this week, we can stay in the suffering until things get still. We can shout, cry, speak, and mourn until it gives way to silence. Maybe we can stay in the mess and confusion and awfulness until meaning returns. We can enter the reality of the cross, with the heartfelt knowledge that hope is on the way.