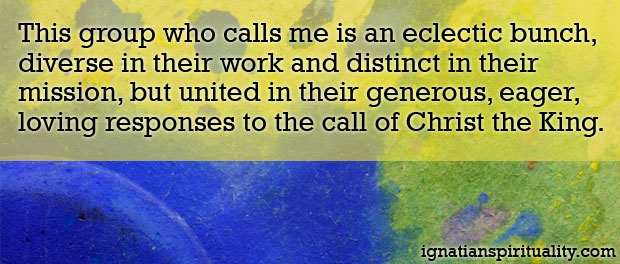 This post is based on Week Five of An Ignatian Prayer Adventure.
I recently attended a parish workshop on the topic of servant leadership. In a small group exercise, we shared examples of people in our lives who truly embody the characteristics of a servant leader—leaders who are empathetic, humble, focused on others, and driven by a sense of mission.
Our group shared stories about saints and popes, family members and friends, civic and political figures. Despite the differences in the types of people we named, all of us agreed that these leaders called forth our enthusiasm, stirred a passion for justice, and inspired us to share their work.
This workshop's exercise is precisely what Ignatius asks us to consider in the contemplation on the call of Christ the King, except he takes it one question further: If the call of these worldly leaders can inspire us to respond, how much more worthy of our consideration is the call of Jesus, our eternal leader?
I recall the people who have called me to co-labor with God, to join Jesus on mission. I felt called by a pacifist couple I met on a service trip in Appalachia. I felt called when I learned about the martyrs in El Salvador, the life of Dorothy Day, and the Jesuit Volunteer Corps. I feel called to mission when I sit with my clients, with dear friends, or in silence. I feel called in my vocation to marriage, social work, and ministry. I feel called when I listen to the words of Pope Francis and when I listen in general. This group who calls me is an eclectic bunch, diverse in their work and distinct in their mission, but united in their generous, eager, loving responses to the call of Christ the King.
Jesus invites the disciples to join him on mission. "Come after me," he says. They follow immediately, leaving their former lives behind. Who is calling you?