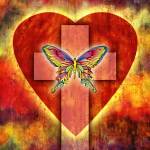 I've always struggled with the mystery of the cross. It's a bizarre part of our faith, and Lent is a chance to grapple with it. The mystery lies in the seeming needlessness of it. How can such a tortuous murder give way to our redemption? Richard Rohr says that struggle and incomprehensible mystery are the way to transformation. If you avoid such tensions, you learn nothing new and become stagnant in the spiritual life.
The way I see the cross—and much of the spiritual life—is as a blessing and a curse. The cross symbolized the curse of sin and brokenness, yet the action on the cross blessed humanity with healing, redemption, and divine love. The mystery of the cross may never be understood except in the context of the blessing-curse paradox. Interestingly, we find this paradox throughout life.
How many of us have been through an extremely trying event only to emerge stronger and better off on the other side? St. Paul speaks about his weakness making him strong. Stephen Curtis Chapman, in his song "Beautiful Scars," sings about the painful "stories that make us who we are" and the wounds of Christ that helped heal and set us free. Much of life seems cursed with suffering and sacrifice, which upon struggle and reflection turn out to be blessings that build our identity and help us to face life in new ways.
Lent reveals those blessings through intentional sacrifice, giving, and prayer. I recommend journaling through the season of Lent, and come Eastertime, reviewing all that you had experienced and struggled with. Then make a note of the graces and blessings you received as a result. These are God's Lenten gifts to you.