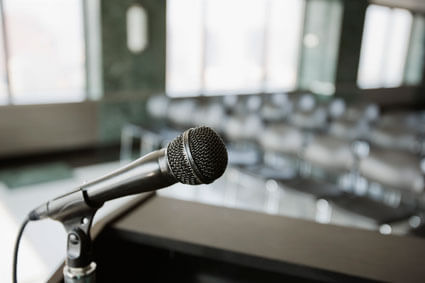 This post is based on Week Seven of An Ignatian Prayer Adventure. It was an assignment from my spiritual director, who suggested writing a eulogy for Jesus because of how close I became to him in my imaginative prayer. While some of this piece is not historically or scripturally accurate, the words express my experience with Christ in prayer. The setting of this particular reflection took place after laying Jesus in the tomb and before the Resurrection.
Good morning, family, friends, and loved ones of our dearest friend Jesus.
While my history with Rabbi Jesus goes a long way, I met with him often, following as one of his disciples. And I, along with a couple others, was with him until the end.
I'd like to share a few words about our dear friend, Jesus. My first memory of him was at his birth. I remember Mary asking if I wanted to hold him. I was hesitant, but she placed him in my hands before I could do anything. I couldn't stop gazing at him, and Mary stayed close by—embracing me and quietly whispering, "You're part of the family now." And it was then that I realized how much love would come into this child's life.
Jesus showed love in his life just like his mother—by staying close, embracing, and whispering confidently to everyone, "You are a part of the family now."
As he grew older, I became a faithful follower. I watched him change lives. I watched him inspire. I watched him challenge the current understanding of who we are called to love. I can't tell you how many times I felt unworthy to follow him. At times I didn't even understand the mission, but I knew he had faith in me. He brought out the greatness within me.
This is what Jesus did throughout his life. Not only did he teach about God's love, but he lived God's love. His actions brought out the best of people. He came to people that were on the margins—"the unworthy"—and made them aware of the greatness buried deep beneath the cultural and societal norms. With love and tenderness, he met people where they were, showing them they had worth. He showed them that they, too, were able to love and be loved. Jesus gave people a renewed sense of their lives.
We walked from town to town telling people that God loves them and that God forgives them. What's more, we told them that we loved them—and we meant it, Jesus especially. If there was one thing he was good at, it was helping people grow into their own human dignity—moving people towards the full humanity that God calls all of us to live.
This is what Jesus did, for all those people, and for me. Jesus saved me.
My friends, today, Jesus is alive in my heart. And while his death was incredibly agonizing and unjust, it would be an even bigger injustice not to honor, remember, and celebrate his life.
May we never forget Jesus' mission and dream for the world. May we continue to follow and share his dream with every people and every nation. It's what he would have wanted.
My Lord, it has been an incredible honor. I love you. I miss you. I will see you soon.