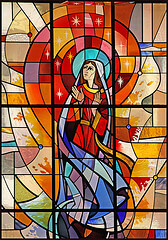 Today is the feast of the Immaculate Conception of Mary.  It's the feast day of my parish, St. Mary Student Parish in Ann Arbor, which serves the University of Michigan Catholic community. (Jesuits run the place.)
To mark the feast, listen to a hymn that's considered one of the loveliest in the corpus of sacred music.   It's a part of Sergei Rachmaninov's Vespers, Opus 95, called "Bogoroditse Devo"  or "Ave Maria."  It's the Russian Orthodox version of the "Hail Mary:"
Rejoice O Virgin, Theotokos [God-bearer],
Mary full of grace, the Lord is with You.
Blessed are You among women,
and blessed is the Fruit of Your womb,
for You have borne the Savior of our souls.
Rachmaninov's hymn is the first 2:24 of this video.  The choir continues with another "Bogoroditse Devo" by Arvo Part, which is very good too.
If you can't see the video click here.
Image by Lawrence OP from Flickr Commons