Welcome to Advent 2011! Our Advent resources this year include the Advent retreat booklet based on the Spiritual Exercises in everyday life. Here on dotMagis each Monday, you'll find brief reflections to jump-start your week. Please share your retreat experience with others here throughout the week in the comments.
The First Week of Advent: Journeying Toward an Encounter with the Lord Who ComesPetition: Ask for the grace of entering into the spirit of Advent, a time of hope, of listening to the Word, of a universal call to spread the Good News.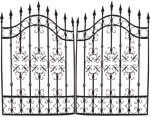 It always takes me by surprise that when the gates of holiness open, however briefly, they usually reveal not some distant castle in the sky but our own backyard. Holy gates invite us to discover God right here.
—Excerpted from 2012: A Book of Grace-Filled Days by Margaret Silf