If you are following along with our Advent retreat, this is the place for brief reflections to jump-start your week. Please share your retreat experience with others here throughout the week in the comments.
The Second Week of Advent: Prepare Yourself for the Lord's Coming.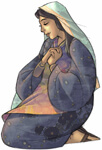 Petition: Ask for the grace to prepare the way for the Lord in one's own heart, in the family, in the parish, and in the human community.When the Spirit hovers over our hearts, we have two choices: to resist and close down or to give our unconditional consent for God's dream to come to birth in our lives. There is no halfway position. It's not possible to be only a little bit pregnant.
—Excerpted from 2012: A Book of Grace-Filled Days by Margaret Silf