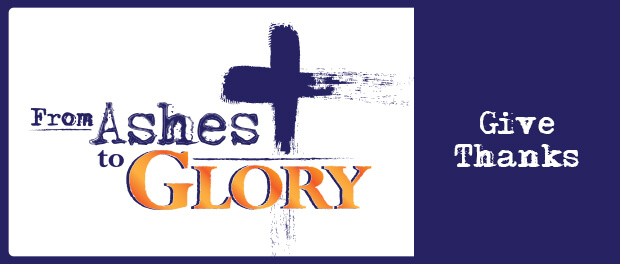 This post is a part of the Lenten series "From Ashes to Glory."
The Word
The Spirit drove Jesus out into the wilderness. He was in the wilderness for forty days, tempted by Satan; and he was with the wild beasts; and the angels waited on him.
—Mark 1:12-13
Reflect
In the desert, Jesus could see the stars and thank the Father for them. We are called out of the world in this season of Lent, so that we can give thanks too. In time, Jesus was called out of the dry desert to a busy life. So too are we called to love and serve God in a busy life. Let us live with hearts full of thanksgiving.
1. Give Thanks. I thank God for this day, for my life, for all I am and have, and for His Word.
2. Pray for Light. I ask the Father to let me see my day as the Holy Spirit sees it, and to show me what I need to see.
3. Find God. I look at my day in the light of the Spirit.
I look back over the morning, the afternoon, and the evening.
Who talked with me or worked with me?
Did I get done what I meant to do or leave things out?
4. Anything Wrong?
Do I trust that God is with me when I fail?
Where I was ungrateful, I repent and offer thanks.
5. What Now?
I look forward in hope.
What have I to do now? What have I to avoid?
Prayer
I seem to give little, Lord Jesus,
to anyone I know in need.
Is it enough to contribute to causes
that help the suffering,
or do I have to help
with my own hands?
Show me others to help.
I will thank You for it—and ask for the courage
to tackle what You lead me to.
Amen.