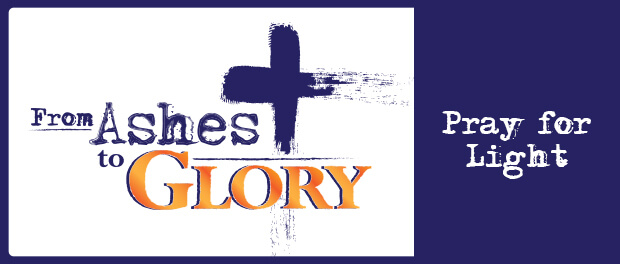 This post is part of the Lenten series "From Ashes to Glory."
The Word
"Whoever wishes to be great among you must be your servant, and whoever wishes to be first among you must be your slave; just as the Son of Man came not to be served but to serve, and to give his life as a ransom for many."
—Matthew 20:26-28
Reflect
How do I serve? I absorb my culture's values, and I recognize that I am too much focused on myself and my needs. I want to absorb the values of Christ, so I ask Christ to shed light on my efforts to serve. How do I connect with others? How do I serve their needs? How can I do better? I choose to follow Christ, but I know I cannot even start without the light of the Holy Spirit.
1. Give Thanks. I thank God for this day, for my life, for all I am and have, and for His Word.
2. Pray for Light. I ask the Father to let me see my day as the Holy Spirit sees it, and to show me what I need to see.
3. Find God. I look at my day in the light of the Spirit.
I look back over the morning, the afternoon, and the evening.
Who talked with me or worked with me?
Did I get done what I meant to do or leave things out?
Have I followed my own path? Have I done what everyone does?
4. Anything Wrong?
Did something go bad?
Is my work incomplete?
I feel the sorrow of painful situations that I cannot change.
5. What Now?
I look forward in hope.
Where do I need God?
Prayer
You stood, Lord Jesus, your head bowed,
looking down at the ground
while they lied and dredged through thickets of falsehood.
Then when You said the truth one more time
they tore their garments, pulled their hair,
and yelled their throats raw cursing You.
Lord Jesus, defend me from my own lies.
I know with all my heart that you are Christ.
I know that you suffered for my sins.
I wish I could break my heart with sorrow over this.
If I do not know how, visit me and show me.
Lord of Compassion, share your passion with me.
I am afraid to ask, but still I say it.
Amen.