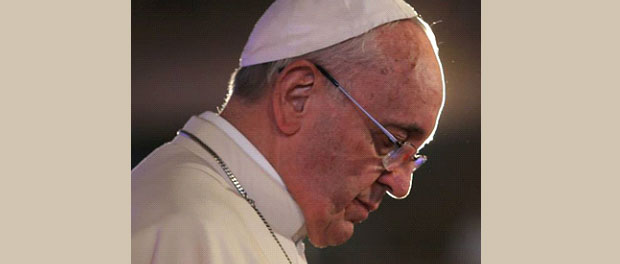 Friday saw the release of the much-anticipated apostolic exhortation on love in the family, Amoris Laetitia, (The Joy of Love). Two responses to the document emphasize the importance of understanding discernment to understand the message Pope Francis conveys in Amoris Laetitia.
First, James Martin, SJ, writes for America that the Pope's "use of discernment is closely tied to the idea of conscience, also highlighted in this document, particularly for those facing complex spiritual decisions." For those less familiar with the concept, Martin explains:
Discernment for St. Ignatius means being aware that God wants us to make good decisions, that God will help us make good decisions—but that we are often moved by competing forces: ones that pull us toward God and ones that push us away. Anyone who has ever made an important decision knows this experience. You feel pushed and pulled by a variety of inner forces: selfish versus generous motives, free versus unfree motives, and healthy versus unhealthy motives.
A longer discussion on the role of discernment in practice can be found at Thinking Faith in the article "'Discernment Charged with Merciful Love': Pope Francis' Amoris Laetitia, on Love in the Family," by Nicholas Austin, SJ, who writes:
What Francis offers is a kind of triptych of discernment, gradualness and mercy. That is, he offers a practice, a principle and a virtue. Together these three panels, as it were, form the basis for a pastoral response to the crisis in marriage and the family. Each has appeared in the pope's previous teaching, but here we begin to see more clearly how they cash-out, and how, when used in concert and applied to particular questions, they have the potential to make a real difference in the life of the Church.

The central panel of Francis' triptych is the practice of discernment. Discernment is a keystone of Jesuit life and Ignatian spirituality, and therefore one that is 'second nature', in the best sense, for Francis. This is not the first time Francis has mentioned the practice, and discernment is a hermeneutical key for reading his pontificate to date: his reform of the Synodal process to incorporate free discussion and consultation more fully, for example, is a manifestation of his desire for a discerning Church. Discernment is something that is known more by practice than book knowledge: it is a more personal and spiritual form of insight, one that requires the virtues of attentiveness, empathy and love, and which develops a feel for the action of the Holy Spirit in human experience.
For more on Ignatian discernment, see this section of our site.Image by Benhur Arcayan (Malacañang Photo Bureau) [Public domain], via Wikimedia Commons.