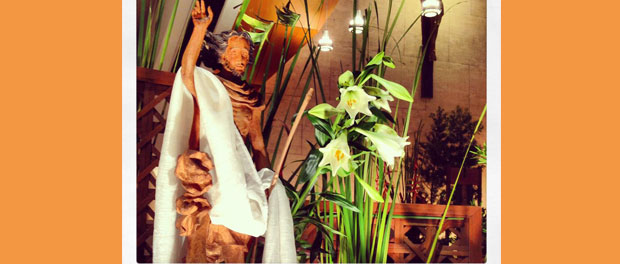 Take in a deep breath—taking in God's love, light, and strength—and let it out slowly, exhaling any worries, cares, or fears.
1. Invite the Holy Spirit to help you see Easter as God sees it. After experiencing the Holy Triduum, we often find ourselves celebrating Easter Sunday and then moving back into our daily routine. So think about the Easter season, the Resurrection that we are currently celebrating, and recognize how God has been present in the days since Easter Sunday.
2. Think about the things you have experienced over these Easter days that you are especially grateful for. Be specific; it can be a gift of a meal, shared time, or something someone said to you. Recognize the experience as an Easter-Resurrection experience. Take a moment to thank God for your gift.
3. As you pay attention to your feelings, ask yourself where God seems to be present in your Easter-Resurrection experience. Did you experience God's love, forgiveness, or mercy? What graces do you recognize in your Easter experience?
4. Now take a moment and review where you may not have recognized God's presence in your Easter-Resurrection experience. Think deeply about this moment when you saw the need for love and didn't feel that love. What was the behavior that may have distanced you from God in that moment? Ask for forgiveness and the grace to recognize God's presence in all things.
5. Finally, think about what you are hopeful for and what you are looking forward to as the Easter season continues to unfold. Offer these to God and ask for God's blessing on your hopes and dreams. Invite God to journey with you throughout the rest of the Easter season and beyond.
And let us pray together the words our Lord gave us: Our Father…