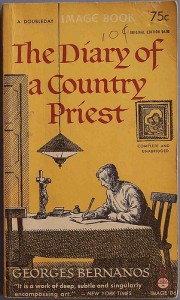 If you like to read novels about priests, Doris Donnelly of John Carroll University has six suggestions.
My book group has read four of the six in recent years.  I'd say (and I think my fellow readers in the group  would agree) that three of them get an A+: The Power and the Glory, The Diary of a Country Priest, and Death Comes for the Archbishop.  The Sparrow, the only one about a Jesuit, is an interesting but uneven science fiction tale.   The Innocence of Father Brown is a good suggestion for our group. As for The Thorn Birds — nah, I don't think so.
Image by
cdrummbks
under
Creative Commons license
.