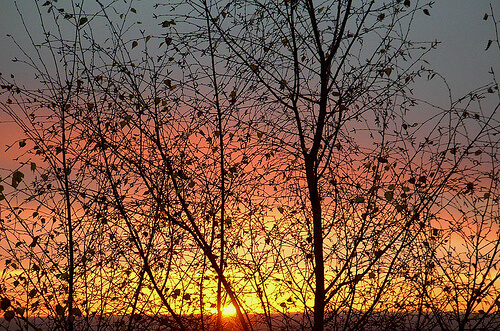 I was walking through the parking lot at work this week, getting to campus early to catch up on a few things. I zipped in and parked at the far end of the lot to get a little exercise  on my way into the office. While I made mental lists of things to do for the day, I strode purposefully across the lot for several minutes. Then I passed a young woman, a student, who was stopping to take a picture. I glanced up at what she was seeing.
Only then did I notice the spectacular sky, the colorful sunrise and the horizon we could see across into Iowa. It was a wonderful sunrise, with a balmy winter's day to enjoy it.
When will I learn to watch the gifts God is offering me every day? Why do I get so caught up in things that I don't notice what is going on around me?
What return can I make for all the Lord has given me?
Image by Vertigogen under Creative Commons license.