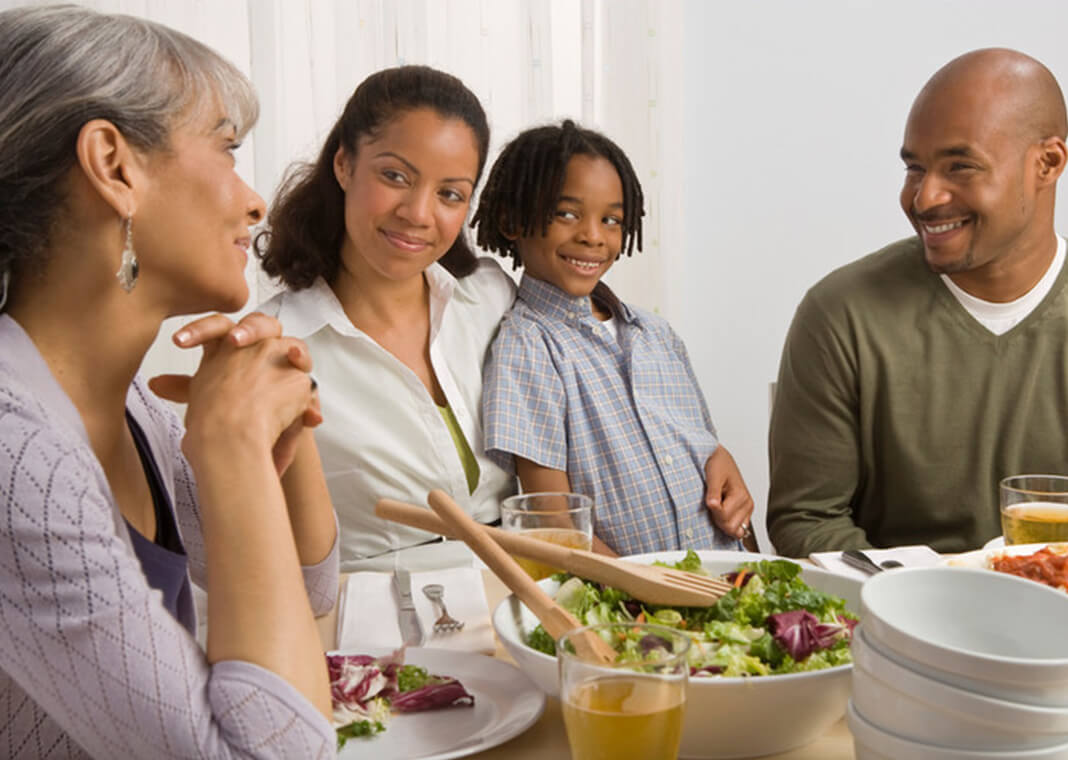 It can be quite difficult to express personal spirituality in family situations that are not particularly friendly toward religion. Especially if a family has experienced religion as judgmental or strident—and all it takes is one or two people to create that atmosphere—the door to spiritual conversations and expressions might be shut tightly.
But if we loosen up on our concept of spirituality, we might discover that we can relate quite spiritually with people who otherwise would resist religion.
1. Extend your gratitude practices to the people you love.
I believe more and more—and I think I'm with St. Ignatius Loyola on this—that gratitude is foundational to spiritual health. If I go through life in a posture of gratitude, that will transform so many situations that would otherwise deteriorate. What I need to remember is that gratitude toward God is key—but gratitude toward others is important too. If I make a practice of expressing to others, on a regular basis, what I'm grateful for in terms of their personality, gifts, efforts, and so on, I will be relating to people in a spiritually healthy way. And that will make a good impact sooner or later. I may help someone recognize her gifts, or I may help another be kinder to himself.
2. Help others become comfortable with silence.
People who can become comfortable when there's no noise, activity, or talking will be better equipped to handle stress, problems, questions, and all sorts of emotions. I can help others make friends with silence by being silent with them, by showing them that I'm fine with sitting together for a while without saying anything, and by not rushing to get an answer or to form an opinion. I can model this sort of calm, and eventually others who spend time with me might just come to value that spiritual discipline as well.
3. Receive—always—a person as he or she is.
It can be especially difficult to withhold judgment with members of your own family or circle of friends, because we feel responsible for those we love. But if we can relax, trust God, and simply receive loved ones in whatever shape they're in, they will be more likely to open up to us—maybe not right now, maybe some time from now—and allow us to be part of the conversation about the struggling marriage or the drug problem or the personality flaws that are making it difficult to hold down a job. Meeting a person first with judgment will send that person far away, even if she lives in the same house. And many people have been conditioned to think that if they turn to religion the first thing they will experience is God's horrible judgment and anger. We have to model God's open arms and forgiveness; otherwise how will anyone know the truth about Divine Love?
4. Reject cynicism and promote hope.
It can be a real challenge to reign in the negativity when people get together. If you have a certain friend or relative who has honed criticism and sarcasm to fine points, then pray for the patience to be just as energetic with encouragement and praise. When the conversation comes to a dark, thudding halt because everyone has helped everyone else become even more depressed about world affairs, dare to tell the story of someone doing a wonderful, brave thing. Of course you can't always be on task with this, or it can seem that you're arguing just as much as the other person, only with a positive emphasis. But hope is a spiritual practice, and sometimes we have to counter despair quite purposefully.
5. Care more about healing than about justice.
I am doing my best to swear off vengeance, because the world is rank with it, and we have to make a stand. I even refrain from seeing some films because it's clear that vengeance is the major theme. I become vengeful easily enough on my own—I don't need cultural reinforcement. So when dealing with daily issues, even conversations at a family gathering, I hope to not chime in about people getting what they deserve. And if a friend or family member is the one who's receiving the harsh judgment, I may be the only voice advocating not for vengeance and punishment but for mercy and growth.
Well, these are just ideas. What do you think?