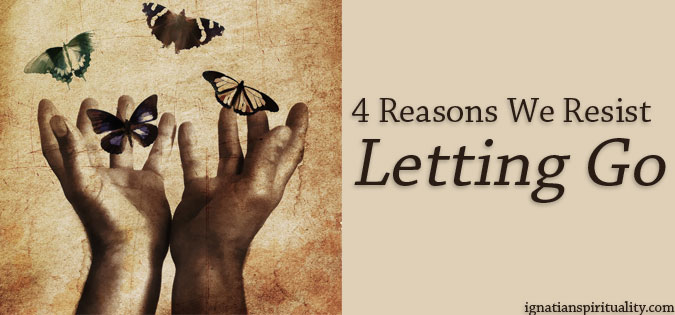 Why do we resist letting go of unhealthy, or disordered, attachments? What happens inside us that makes us hang on for dear life, even when hanging on is hurting us? Here are some ideas.
I resist letting go because, at some level, letting go feels like failure. I don't want to admit defeat—that I can't finish a project well, that the relationship is never going to work, that I can't change a situation no matter how much I want to. Have you ever noticed that we don't get rewards for failing? People may praise us for working ourselves into ulcers, but they can fall ominously quiet when we decide to cut back our hours in order to live better.
I resist letting go because I haven't found an alternative to this unhealthy attachment. Until I find a new reward, I will keep using cupcakes and cappuccinos. It's that simple. Detachment leaves a void. If I can't be at peace with my own company, then of course I'll grit my teeth and stay in a bad relationship—or I'll replace it with another relationship right away, which often becomes a mere extension of the last one.
I resist letting go because I have become accustomed to this emotional pattern. Time to get honest: Do I thrive on being in survival mode? Am I addicted to a cycle of despair-immobility-hyperactivity-relief? Do I allow my life to get super messy because after a few weeks it feels so good to do a big sort-and-pitch? Do I drag my significant other into an argument because that's the only way I can work myself into a good cry and then feel better?
I resist letting go because I don't want to face my root problems. Psychologist M. Scott Peck once said that, "almost all of us, to a greater or lesser degree, attempt to avoid problems. We procrastinate, hoping that they will go away. We ignore them, forget them, pretend they do not exist. . . . We attempt to get out of them rather than suffer through them" (The Road Less Traveled). Hanging on to a disordered attachment is a form of spiritual/mental/emotional procrastination.
I'd love to hear what you think of all this!