I cannot help but smile as I remember a conversation I had with Abby on the way home from preschool the other day.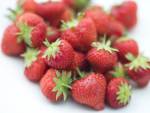 Me: What did you learn about in chapel today?
Abby: The fruits of the spirit.
Me: Really? What are the fruits of the spirit?
Abby: STRAWBERRIES!
While Abby did not answer with a "Fruit of the Spirit" as we know it, she did provide me with an incredible moment of consolation: a felt presence of God through the gift of laughter and the increase of hope and love. Abby helped me remember, as she does so many days, that I have no doubt that I discerned the vocation that most brings me to a fuller life.