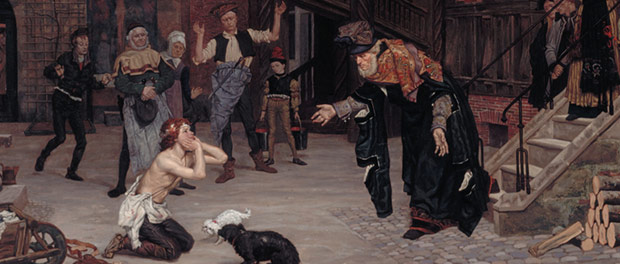 This post is based on Week Three of An Ignatian Prayer Adventure.
"While he was still far off, his father saw him and was filled with compassion; he ran and put his arms around him and kissed him." (Luke 15:20)
I imagine the father squinting towards the horizon, daring to whisper, "Could it be my child has returned?" Although his son is still far away, the father cannot help but break into a run. I imagine an unruly, wild kind of running. Like the father in the Parable of the Prodigal Son, God runs to us—even when the distance seems vast and impossible to cross, no matter how far we have strayed from home.
In my work as a therapist, I listen to the stories clients tell themselves about their own mistakes, regrets, and imperfections. I have noticed that these stories tend to fall in two categories. Either we tend to underemphasize the negative effects of our choices, dismissing or justifying hurtful actions, or we grip too tightly to our sins and get stuck in unworthiness, disgrace, and shame. Like us, the prodigal son makes both of these mistakes; there is both more sin and more grace than we realize. Still, God runs to us.
The First Week of the Spiritual Exercises invites us to take a look at the ways we leave home. Acknowledging our sins is difficult, but it opens us to God's embrace. This week as we review our patterns of sinfulness, may we grow in awareness of a loving God who runs wildly towards us to welcome us home.
Image: Detail of "The Return of the Prodigal Son" by James Tissot [Public domain], via Wikimedia Commons.