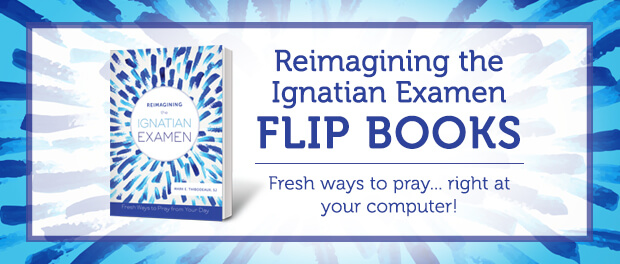 The Examen, as Mark E. Thibodeaux, SJ, says, "brings my nitty-gritty to God and God to my nitty-gritty." St. Ignatius advised praying the Examen every day, no matter what else was happening. The daily prayer invites us to look back on the day to see where God was clearly present or where things didn't go so well and to ask God for help in the future.
The traditional Examen has five steps, and Thibodeaux says, "There is no problem with simply sticking to the original five-step Examen as presented by St. Ignatius. But you may find that when you slightly change the reflection questions every day, the Examen will feel fresher and more spontaneous." That's where Reimagining the Ignatian Examen comes in.
The book includes 34 variations on the Examen. Here we are pleased to share another method for praying the Examen—online flip books, using prayers found in Reimagining the Ignatian Examen. If you're looking for a fresh way to pray right at your computer, you've found it.
The Examen flip books can be used on your desktop, laptop, or mobile device.
Examen Flip Books
Naming the Grace
Gratitude
Praise, Reverence, Service
Choose Life