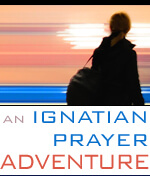 This week we pray through the Passion of Christ. This is the third phase of the Spiritual Exercises—the Third Week. In the Second Week, we asked for the grace to know Jesus more intimately, to love him more dearly, and to follow him more closely. This love leads us to be with Jesus in his suffering.
The grace we seek this week is compassion. We reflect not merely on the physical pain he endured but also on the emotional, interior suffering of a person who is misunderstood, isolated, rejected, and alone.
The colloquy is very important in the Third Week. We speak to Jesus as a friend would speak to a friend (SE 54). We speak words of sorrow, confusion, compassion, regret, fear, anticipation—whatever moves us. Or perhaps we are present to Jesus without words.
Day 1
Day 2
Day 3
Day 4
Day 5
Day 6
Day 7
Additional Video for Week 7
Kevin O'Brien, SJ, on Accompanying Jesus in His Passion and Death
Bloggers' Reflections on These Spiritual Exercises
Reflections by Paul Brian Campbell, SJ, Vinita Hampton Wright, and Jim Manney:
Praying on the Passion and Death of Jesus
The Passion and Holy Week
Praying with Your Feelings
Help My Hurting Heart
Good Friday Reflection
---