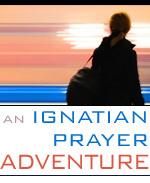 We come to the Fourth Week of the Spiritual Exercises-the end of the Exercises and the final week of our retreat. We encounter the risen Lord as he consoles his friends and disciples, who were once scared, confused, and despairing. Accompanying the One we have walked with all along, we savor the distinctive grace of this final movement of the Exercises: joy.
Four days will be taken up with reflection on the resurrected Jesus. We contemplate the risen Christ consoling others. We notice how his friends both recognize and fail to recognize the One they have followed and loved. We marvel at how Jesus in the resurrected life—where his divinity is no longer hidden—does very human things: eating, talking, consoling, teaching, and enjoying the company of others.
We conclude the retreat with three days of reflection on the love of God and our response. For this we use St. Ignatius's Contemplation of the Love of God from the Spiritual Exercises.
Day 1
Day 2
Day 3
Day 4
Day 5
Day 6
Day 7
Additional Video for Week 8
Kevin O'Brien, SJ, on the Contemplation on Divine Love
Bloggers' Reflections on These Spiritual Exercises
Reflections by Paul Brian Campbell, SJ, Vinita Hampton Wright, and Jim Manney:
Joy Is a Decision
The Resurrected Christ Appears
Gratitude Is the Key
Because of the Resurrection
Video Reflection: Resurrection
---