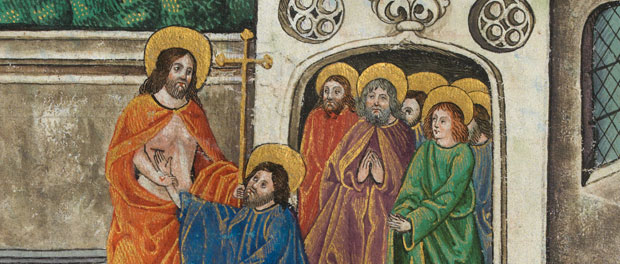 The moniker "doubting Thomas" has always bothered me. Thomas did, after all, have great faith, enough faith to give up everything he knew—family, friends, homeland, and career—to follow Jesus. Yet we remember him for one fleeting moment of very understandable hesitation. In fact, I wonder how different his reaction to hearing the news that Jesus was alive might have been from my own? When I place myself in prayer next to Thomas in the Gospel passages, I see that Thomas, in his humanity, is a relatable figure.
Since Thomas was not with the rest of the disciples in the Upper Room when Jesus first appeared to them, his encounter with the Risen Christ was delayed. In a sense, his unique experience of the Risen Christ brought him to his own personal Easter.
In Thomas's story, we witness the spiritual journey of a soul striving to accompany Jesus despite a very real and flawed humanity. In Thomas, we might also see the story of "the other" who has become separated from community, a figure with whom all who strive to accompany Jesus in faith and action can relate.
Thomas
Isolated
Confused
Afraid
Doubting

Sadness
Emptiness
Loneliness
Pain
Devastation
Alone
     without community
Alone
     what made sense then
     seems ridiculous now.

Desolation.
A dark night.
He asks,
How then shall I live?

Out of the darkness,
an optimistic note,
a ray of light.
There comes encounter.

A hand extended,
A side plunged into.
And with encounter,
An invitation.

To let go of
     disappointment
     anger
     shame
     fear
     pain.
To be free of
     sadness
     emptiness
     loneliness
     guilt
And be reconciled.

An invitation to
     Mercy
     and to
     Trust.

To Thomas,
     He says,
"Do not be afraid.
     I did not leave you!
     I still love you.
Do not be afraid.
     You are not alone.
     I am with you.
Do not fear
     opening your heart again.
     I am here.
     You are safe.
     You are forgiven.
     You are loved."

In His hands, His side,
An invitation to Hope.
An invitation to Love.
An invitation to Joy.

This is your Easter, Thomas.
Image: Vaux Passional, "The Incredulity of Thomas, Who Places His Finger in the Wound."