By Bert Ghezzi
From Voices of the Saints
How I grieve, my God, that you are not known, that this savage country is not yet wholly converted to faith in you, that sin is not yet blotted out!
—John de Brébeuf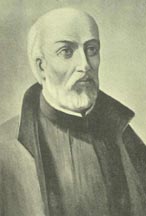 Some saints I feel I know a little better because I have met someone like them. But I have never met anyone like St. John de Brébeuf, the Jesuit missionary and martyr. Large and handsome, his presence commanded attention. A brilliant student, gifted linguist, and competent manager, he could make things happen. I have met others like that, but none like this saint who was willing to endure anything if only he could thank Christ by giving his life for the salvation of others.
Even though weakened by tuberculosis, John joined the Canada mission in 1625. For a quarter of a century with only a four-year interlude, he evangelized the Hurons in Quebec. He lived with them, embraced their customs, mastered their language, and wrote a catechism for them.
At first he had little success because the odds were stacked against him. The Indians viewed him as member of a conquering race. They also blamed him for rampant diseases and everything else that went wrong. But John persevered with the good humor you see in this letter inviting other Jesuits to join the mission:
When you reach the Hurons, you will find us with hearts full of love. We shall receive you in a hut, so mean that I have scarcely found in France one wretched enough to compare it with. Fatigued as you will be, we shall be able to give you nothing but a poor mat for a bed. Besides you will arrive when fleas will keep you awake most of the night.
Instead of being a great theologian as you may be in France, you must reckon on being here a humble scholar, and then good God! with what masters—exposed to the laughter of all the savages. The Huron language will be your St. Thomas and your Aristotle. Glib as you are, you must decide for a long time to be mute among the barbarians.
Without exaggeration, you will pass the six months of winter in almost continual discomforts—excessive cold, smoke, the annoyance of the savages who surround our fireplace from morning until evening looking for food.
For the rest, thus far we have had only roses. As we have Christians in almost every village, we must expect to make rounds throughout the year. Add to all this that our lives depend upon a single thread. Your cabin might burn down at any moment or a malcontent may cleave your head open because you cannot make it rain.
Here we have nothing that incites toward good. We are among peoples who are astonished when you speak to them of God.
In 1649, the Iroquois attacked the Huron village where John was living. They brutally martyred him, Gabriel Lalement, his companion, and their converts. Their suffering is indescribable: bludgeoned, burned with red-hot hatchets, baptized with boiling water, mutilated, flesh stripped off and eaten, hearts plucked out and devoured. But John de Brébeuf had his prayer answered. He traded his life for the seven thousand souls he had converted and baptized.
My God and my savior Jesus, what return can I make to you for all the benefits you have conferred on me? I make a vow to you never to fail, on my side, in the grace of martyrdom, if by your infinite mercy you offer it to me some day.
—John de Brébeuf
Excerpt from Voices of the Saints by Bert Ghezzi.
---
Related Links