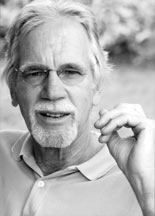 Gary Smith, SJ, is a member of the Oregon Province of the Society of Jesus and has spent his ministerial life in service to the poor and marginalized. In 2009 he celebrated 50 years as a Jesuit during his Jubilee Year.
In 1959 Smith joined the Society of Jesus. While still a student in Toronto in 1969, Smith began ministering to the poor and prisoners with drug and alcohol addictions. After his ordination in 1971, Smith set up a street ministry program in San Jose, California. He then moved on to Oakland to work with the poor until 1984. In 1992 he began an eight-year ministry in the Old Town section of Portland, Oregon.
Fr. Smith kept a journal of his ministry experiences with the poor, which was published as Radical Compassion: Finding Christ in the Heart of the Poor. In the book, Smith shares his life with the residents of Old Town, where he met some of the abandoned, overlooked, and forgotten members of society.
Fr. Gary Smith then applied to the Jesuit Refugee Service to minister to refugees. He was accepted and in 2000 began to work with Sudanese refugees in Uganda. There he found himself in camps with as many as 30,000 Sudanese refugees displaced by Sudan's 20-year-old civil war. He traveled over half the world to this forsaken place out of the conviction that "Jesuits should be going where no one else goes."
In Uganda Smith was a pastoral agent whose task was to train catechists, who are the backbone of the Church in Africa. He also did pastoral work in the villages of the refugee camps. Again, Smith kept a journal and published his African experiences in They Come Back Singing: Finding God with the Refugees.
Smith is now on another assignment with the Jesuit Refugee Service, working with refugees in Zimbabwe in southern Africa.
---
Related Links
Gary Smith, SJ, Author SiteGary Smith's Web site from Loyola Press offers photographs from his time with the Sudanese refugees.
dotMagis Blog PostsBlog posts about Gary Smith, SJ.
They Come Back Singing ExcerptsRead several chapters of Fr. Gary Smith's powerful book chronicling his experiences with Sudanese refugees in Uganda.
Radical Compassion ExcerptsRead excerpts from Fr. Gary Smith's journal of his years serving the poor in Portland, Oregon.