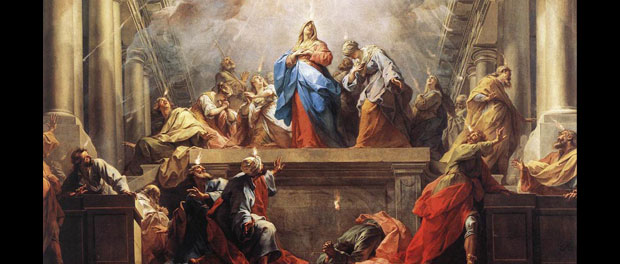 This imaginative prayer meditation is based on Acts 2:1–11, the story of the coming of the Holy Spirit at Pentecost.
After Jesus ascended to the Father, all of us who followed him decided to stay together. He told us to wait for the Holy Spirit. We weren't sure what that meant, really. What would it look like, feel like? The Holy Spirit visited the prophets in strange ways—in visions, with powerful speech, even with great miracles.
In Jesus' company, we had indeed witnessed miracles. We told stories, often, of when he healed this person or cast out a demon from that one. We recounted the story of Jesus feeding thousands with a few loaves and fishes.
The biggest miracle, of course, was his Resurrection. That was more than a miracle; it changed the world forever. It changed us, down to our very bones and breath.
What do I remember most fondly about traveling with Jesus? Was it his stories? He had a story for just about every situation! Was it the way he looked with great kindness on a person, no matter who that person was or what he'd done?
All we could do now was tell stories of what had already happened—that, and pray. We prayed as Jesus had taught us. And we waited.
What are we waiting for? How will we know that the Advocate has come to us? Will we know for certain, or will it be another one of Jesus' puzzles or parables?
The Feast of Pentecost arrived, and still we remained gathered like sheep awaiting the shepherd. We observed our Pentecost prayers and rituals, continuing to act like the observant Jews we were. But something was missing, and we didn't even know how to describe it.
What does a community need, when it has understood a new and revolutionary truth? Do we need better understanding? Do we need a plan? Do we need, more than anything, the courage to keep believing and telling what we know?
On the Feast of Pentecost, while we prayed together, the room suddenly filled with wind that seemed to come from an ocean or a desert. Or a cave or a mountain. It was fresh and cool yet weighted with unnamable fragrance and crackling like fire. The two small windows and the seemingly calm weather outside could not account for this roaring, invisible, electric rush of air.
What is happening? Are we to be taken up in a whirlwind, as Elijah was? Will we go now to be with our Lord, wherever he is?
We prayed louder and with urgency. Surely God would protect us from whatever was happening just now. At one point all of us were saying, together, the prayer Jesus had taught us: "Our Father . . ."
Then our communal prayer burst into a hundred prayers at once. Our words had begun in unison but now reproduced themselves in odd yet fervent lines of syllables. After a few moments, we realized that we were not saying the same words. In fact, we were not even speaking the same language.
What is going on in my mouth? I think a thought, and my tongue and lips form the thought on their own, in words I cannot perceive yet know to be true.
Each one of us was praying in an excited voice, in a distinct language. And we were proclaiming this new story of the risen Christ with eloquence we could not have imagined moments before. With our minds we could not translate, but our hearts knew exactly what we meant.
Who's knocking on the door? Oh—they've pushed it open, and there's a crowd out there! Who are they, and what do they want? They seem to be foreigners, judging by their clothes.
We stopped praying so that the people out in the street, now in our doorway, could be heard. "How is that you Galileans are speaking all our languages, telling us of God's mighty works? We're from a dozen different countries and tongues, and yet you speak to us plainly. What's going on here?"
Then Peter stood on a table and began to tell the story.
—
Image: Jean II Restout, "Pentecost," 1732