Here's a Father's Day gift from Tom McGrath, a friend, father, and author. It's a wonderful piece about St. Joseph in this week's America.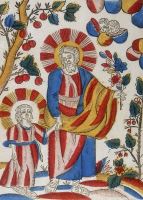 When I meditate on Joseph, I think of a life spent building things, solving problems and restoring broken items to usefulness. St. Joseph is known as the patron saint of workers, so it is not surprising to me that his son's teachings were full of references to work: "A sower went out to sow"; "A man built a tower"; "A woman came to draw water from a well."
Parenting children is work. Often it is hard work—physically, emotionally and spiritually. How consoling it is as a parent to have the tools of the carpenter at my disposal—compassion, attunement to God's word, life-bringing religious practices and an awareness that God too is at work in the world and at work in me.
Read the whole thing. (Take a look at Tom's excellent book Raising Faith-Filled Kids.)