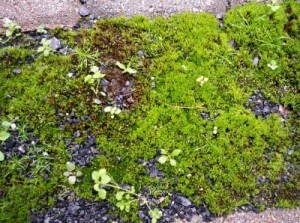 Does anyone not know I'm getting married in four weeks? I'm getting married in four weeks and have been writing about it here.
This isn't my first or even my second marriage, but I know it will be my last one. This time God is at the center; something I knew early on in my relationship with Dan and is affirmed by the Holy Spirit every step of the way.
Earlier this week some of those steps took place along the channels of a labyrinth at the Bon Secours  Spiritual Center, a glimpse of paradise blessedly nearby.
The day was gray, rainy and a bit raw but that didn't stop us from wandering the grounds and visiting the chapel.  Too cold to walk the labyrinth? That's what I thought.
Over the years I've learned to heed the small still voice within, especially when it gets loud and insistent. I wanted to get into the warm car but kept hearing,  "Walk the labyrinth." And so I did. So did Dan, although he prefers Centering Prayer. Me? I love labyrinth walks — meditation in motion. Works for me.  And so it did this time.
I never know what will happen during a labyrinth walk.  Some suggest entering with a prayerful intention; mine is always the same and captured in the word "reveal."  My mind always wanders faster than my feet at first. I'm always surprised by a sense of reaching the center very quickly while, in reality, having a lot more and ever-widening channels to walk.
Dan and I meet on the same outside channel, something that has never happened for me in more than a decade of labyrinth walks, some  on labyrinths clogged with Seekers.  We gently maneuver around one another. I am leaving the center of the labyrinth; he is walking toward it.  It could have been the other way around and during the years ahead I'm sure it will be. Marriage is like that and I thank God that God is at the center of this one.