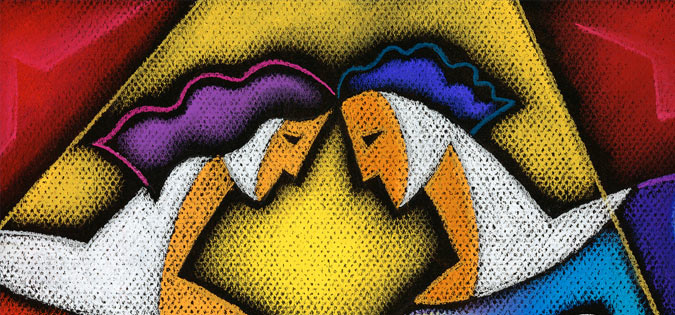 In recent posts, I shared a process of discerning as a couple and also five ways the Examen can support us in our marriage. Now let's take a closer look at four ways the Examen can help us discern as a couple.
1. The Examen helps us get clarity on what we are discerning.
It is hard to make a choice without clearly knowing what the decision we are being asked to make is. My husband Chris and I have learned the benefit of praying the Examen in the early stages of discernment. As each of us prays our daily Examen, we may individually notice recurring themes in our prayer lives.
When we notice something coming up in prayer over and over again, we bring it into our conversations. We have been surprised on multiple occasions to hear that there are similar themes arising in both of us. Whether what we bring up is echoed in each other's prayer or not, we try to listen and hear what we are being invited to consider. It might be something simple like discerning with our son to play soccer or baseball this spring, or it might involve something larger, such as balancing our time between caring for my grandparents and our children. The Examen provides a framework for us to notice what God has our attention about.
2. The Examen helps us pay attention to movement of the spirits.
A key component to Ignatian discernment is paying attention to the movements of consolation and desolation in our lives. As we sit with a decision, we can notice where the decision arises during our Examen. Does it often come up as we pray through where we felt an increase of faith, hope, and love today? Or does the choice come up as we pray through where we felt a decrease of faith, hope, and love?
Chris and I pay attention to the movements of our own daily Examens, and when we feel it is appropriate to do so in regards to discernment, we share those movements with each other. This helps us both get a sense of where and how the Holy Spirit is moving in our lives.
3. The Examen helps us find our way.
Like any good Ignatian discernment, eventually a pathway becomes clear, and we are invited to commit to a decision. The Examen remains a tool in our marriage toolbox to help us know our way and our next right steps. Over time, weighing our choices and noticing the movements of the spirits, a direction becomes clear. Chris and I may commit to each other to make a certain decision and act on it quickly. Or we may find we need to hold steady in prayer before acting. The Examen's gift in our marriage is it often acts like a rudder, helping us steer through the waters of life.
4. The Examen helps us check the fruits of discernment.
Once we come to a decision and we feel called to act on it, the Examen serves as a checkpoint for us. It allows us to lean into the decision and see if the fruits are there as we live out the decision. Both individually in our prayer and together through our dialogue, we can notice if our discernment and choice is bringing an increase of faith, hope, and love or a decrease of faith, hope, and love.
The gifts of the Examen continue to unfold in my life and in our marriage. How do you use the Examen in discernment?